For most individuals, electronic devices have become ingrained into our daily lives. With this change, parents may be asking themselves how does screen time negatively impact their children, and how much should they limit their children's interaction with electronic devices.
Some issues related to too much screen time include sleep issues, weight problems, mood disorders, decreased physical activity, decreased time reading books, and lower grades in school. Also, children may be exposed to violence and risk-taking behaviors, substance abuse, sexual content, cyberbullies and predators, and negative stereotypes. Though screen time can have a negative impact on children, there are positive aspects as well. Many educational opportunities are easily available to children who have access to electronic devices, and these devices have become a vital asset for learning in today's classrooms.
Creating a screen time plan for your family can be a great way to ensure children benefit from the positive aspects of electronic devices while minimizing the negative impact. According to the American Academy of Child and Adolescent Psychiatry, screen use should be minimized for children younger than 18 months of age, and those between the ages of 18 and 24 months should be limited to watching educational programming with a caregiver. Between the ages of 2 and 5, non-educational screen time should be limited to 1 hour per weekday and 3 hours on weekend days. For children 6 and older, try to limit activities that include screens when possible. Consider not allowing screens during family time. Parents should familiarize themselves with and use parental controls. Screens should also be turned off and removed from bedrooms 30-60 minutes before bedtime. When possible, encourage children to participate in activities that do not involve screens. By creating a screen time plan for your family, you can develop positive and healthy screen use.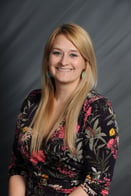 Dr. Duesterheft is a resident physician who sees patients of all ages and provides obstetrical services at Lone Star Family Health Center, a non-profit 501©3 Federally Qualified Health Center operating facilities in Conroe, Spring, Willis, Grangerland, and Huntsville, and serving as home to a fully integrated Family Medicine Residency Program to increase the number of Family Medicine physicians for Texas and our community.