It's that time of year again! Hot chocolate filled with marshmallows, bright lights lining homes and circling trees, a much-needed break from the Houston heat, and…achy joints? Most of us look forward to the holidays coming around every year whether that is because you finally get to see family, or you are finally going to get that gift that you have been wanting all year. For those with osteoarthritis, it may also mean increased pain in your joints.
Osteoarthritis, or OA, is the most common form of arthritis with about 32.5 million US adults currently diagnosed. This form of arthritis is known as "wear and tear" and can be caused by overuse or injuries but is also related to genetics and aging. Essentially, the cartilage in your joints that act as a shock absorber gets worn down and makes joint movements less smooth.


This kind of arthritis can be affected by cold and wet weather—something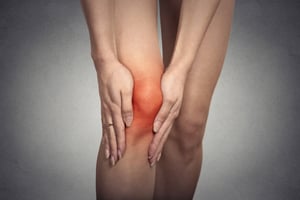 we are familiar with during the winter here in Conroe. It is not clear why this happens, but there are a few ways you can help fight those winter aches and pains.


It may seem like common sense, but make sure you dress warmly and make sure the joints that hurt the most keep warm. This can help with some stiffness. On the same note, heating pads and hot showers or baths can help loosen up the muscles and ease stiffness in your joints. Typically, ice is used for injuries and heat is used for more long-term conditions, but both can be helpful in the treatment of OA. So, just use what helps you most.


One of the best ways to treat OA throughout the year is low-impact exercise like swimming and yoga—this doesn't change during the winter just because it's cold outside. Free yoga and other work out videos are available online and can really help with your pain. These can be done in the comfort of your own home. Even dancing around to some holiday music can count as exercise, but just make sure to incorporate movement into your daily routine because it helps lubricate our joints for less pain. This can also help with the next tip, weight loss!


Losing weight, although sometimes hard to do during the holidays, is one of the best ways to lessen the strain on your joints and ease your pain. It goes hand in hand with adding movement to your day, and the combination of the two will help not only during the winter months but all year long!


These are just some of the things you can do at home to help with your joint pain during the cold season. If you are still experiencing increased pain in your joints, it might be a good sign that you should come see your primary care physician for an official evaluation. Your doctor should take into consideration your other health problems and may recommend taking over the counter anti-inflammatories or using the help of braces or other assistive devices to help you in your daily life and routines. Happy holidays and stay safe!


Dr. Trinh is a resident physician who sees patients of all ages and provides obstetrical services at Lone Star Family Health Center, a non-profit 501©3 Federally Qualified Health Center operating facilities in Conroe, Spring, Willis, Grangerland, and Huntsville, and serving as home to a fully integrated Family Medicine Residency Program to increase the number of Family Medicine physicians for Texas and our community.